Vibrant Rebirth of a Modern Japanese City
WTF Rating

Worth Staying
4 Nights
Move over Tokyo and Osaka, Hiroshima (広島) is arguably the most interesting city in Western Japan, recreated itself from a singular tragic past, today Hiroshima is one of the most popular food cities in the whole of Japan, its nearby Miyajima Island is also a natural and spiritual sanctuary, an island overrun with deers guarantee to make your smile.
---
Hiroshima is less than two hours from Kyoto and Osaka by bullet train, it is a perfect day-trip to get away from tourist crowds, however, if you plan to visit Miyajima Island and you should, consider spending 3-4 days in Hiroshima and experience a modern Japanese city at your own pace. Hiroshima rose from the ashes of nuclear destruction, defied all odds to rebuilt and reinhabited the city, visitors arriving by bullet train might have little inkling of the city's singularly tragic past, on any given night you'll see locals fill up their favorite izakayas, tourists pause outside restaurants to glance through special deals on okonomiyaki (savory pancake layered with ingredients) and local oysters.
---
Traveler insight
Prices shown in USD
CURRENCY
JAPANESE YEN, 1 USD =  100 YEN (APPROX.)
How much money to bring
$50-60 per person/day
SPEAKS
JAPANESE
AIRPORT TO TOWN:
Hiroshima Airport Taxi / Uber $120-160
AIRPORT SHUTTLE $13 / $25 (return)
AREAS TO STAY
Naka-ku (Touristy finds), Minami-ku (Close to main station)
TIPPING
Not appreciated
FOOD
LOCAL EATS: $10 / RESTAURANTS: $30 PER PERSON
DRINKS
Tap water is potable
BOTTLED WATER:
$1 AMERICANO: $3.50
BOTTLE OF BEER: $4.50
COCKTAILS: $9-15
---
Need to Know
First things first
Pick up an IC card (eg. SUICA) – the card is usable on most public transports in Japan, certain stores and restaurants also accept them as a payment method. Japan prefers a cash-based lifestyle, credit cards are not popular so bring extra for onigiris ?
Moving around
One of the best ways to sightsee Naka-ku (Naka ward) is by foot; Hiroshima castle, Peace Memorial, Hondori Shopping Street, and Hiroshima's party scene Nagarekawa-cho are within 1 square mile of each other and are easy on foot. Taxi ranks are found on main streets, they can also be flagged down if you spot one your way. Uber is available in Hiroshima, they cost about the same as regular taxis with a base fee of about 600 yen / $5.70 that covers the first mile. The Hiroden Streetcar is also very convenient and an affordable way to move around.
Making friends
Command of English is generally limited, but locals are friendly, warm up over a couple of drinks at a local bar and the language barrier disappears.
Eat like a local
Hiroshima is the biggest oyster producer in Japan, locally, these bivalves are served in many ways from the familiar freshly shucked ones with a drizzle of lemon to ones grilled or fried with a light batter, some oysters also age like wine, increasing in flavor and complexity. If you're not into the shellfish, Hiroshima might just change that.
And if there ever was a better pairing, Hiroshima is also known for their lemons (Setouchi Lemons), which has a mildly sweet flavor and it is less acidic. Being Japan's top producer, the citrus is a pride of Hiroshima, finding its way into many products from facemasks to lemon tarts but most of all it added a whole new twist to highballs.
PRO TIP

Warm up over a couple of drinks at a local bar and the language barrier disappears.
---

Day 1
08:30 – 09:30 Okonomiyaki
Nagata-Ya
Located right in the heart of the city on one end of the Hondori shopping street closer to the Peace Memorial, Nagata-Ya specializes in Okonomiyaki and it is popular among locals and tourist alike, the restaurant is hard to miss with the orderly lines of hungry folks crowding the front of the restaurant. The portions are generous, the staple dish worthy of repeat visits.
They're open at 8:30 am, it will likely be full if you don't make it by 8:25 am,  try 9:20 when the first wave of customer leaves, The queue really picks up after lunch.
10:00 – 12:30 Museum
Hiroshima Peace Memorial Museum
A must-see, the museum presents stories and personal accounts of the atomic bomb victims and the indiscriminate destruction of the weapon. The exhibition shares a powerful experience in capturing emotions, regrets and triumphs of survivors with a bittersweet ending. Probably the most moving exhibitions you will ever see, plan to spend about 3 hours here, the admission fee is a reasonable 200 yen, this is a museum worth traveling for.
PRO TIP: Visiting this exhibition first will give you a better experience and understanding of the monuments, memorials, and cenotaphs around the park.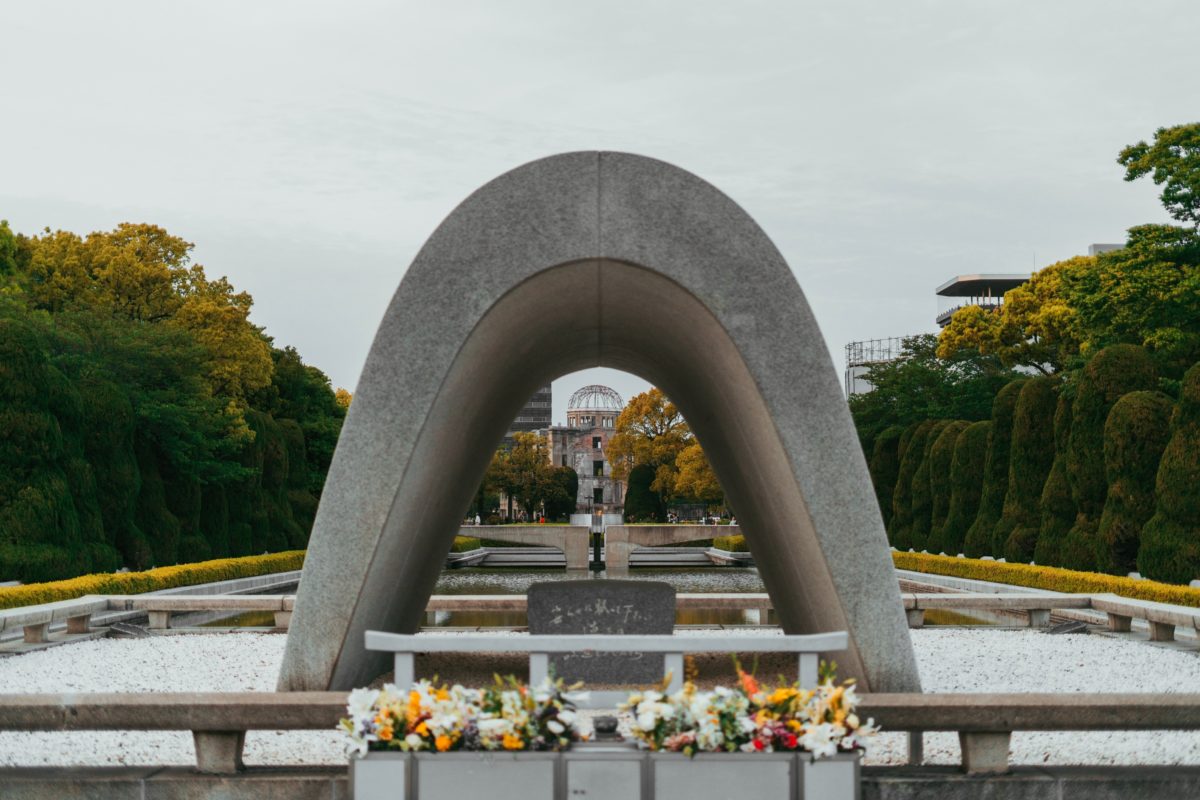 ---
12:45 – 14:00 Izakaya & Oysters
Ekohiiki
A cozy family-run izakaya despite being right at the edge of Hondori Shopping Street, it is also popular among locals. The atmosphere is casual, think two friends catching up over fresh seafood, and 70-year-old couples enjoying grilled oysters and a crisp mug of Asahi draft. Known for making their oysters in multiple ways, they also serve whale meat and pufferfish seasonally. The owners are friendly, English menu is available, and they carry a respectable selection shochu and sake as well.
PRO TIP: The A-bomb ground zero / hypocenter is marked by an inconspicuous plaque in the opposite alley 50m from the restaurant.
---
14:00 – 15:00 Stroll through the Park
Explore the Peace Memorial Park and A-bomb Dome
Start your walk at the hypocenter, 50m from Ekohiiki & Nagata-ya, the device detonated 600m above this point for maximum destruction. From here, the atomic bomb dome is right after the bend about 120m away, enjoy the close-up and cross the river via the Aioi Bridge – the T-shaped bridge was the designated target for the bomb, it is also one of the better spots to snap a photo of the iconic dome. From here, there are several memorials and monuments along the UNESCO Peace park, passing the memorial cenotaph by the pond, and finishing past at the museum by the Peace Boulevard.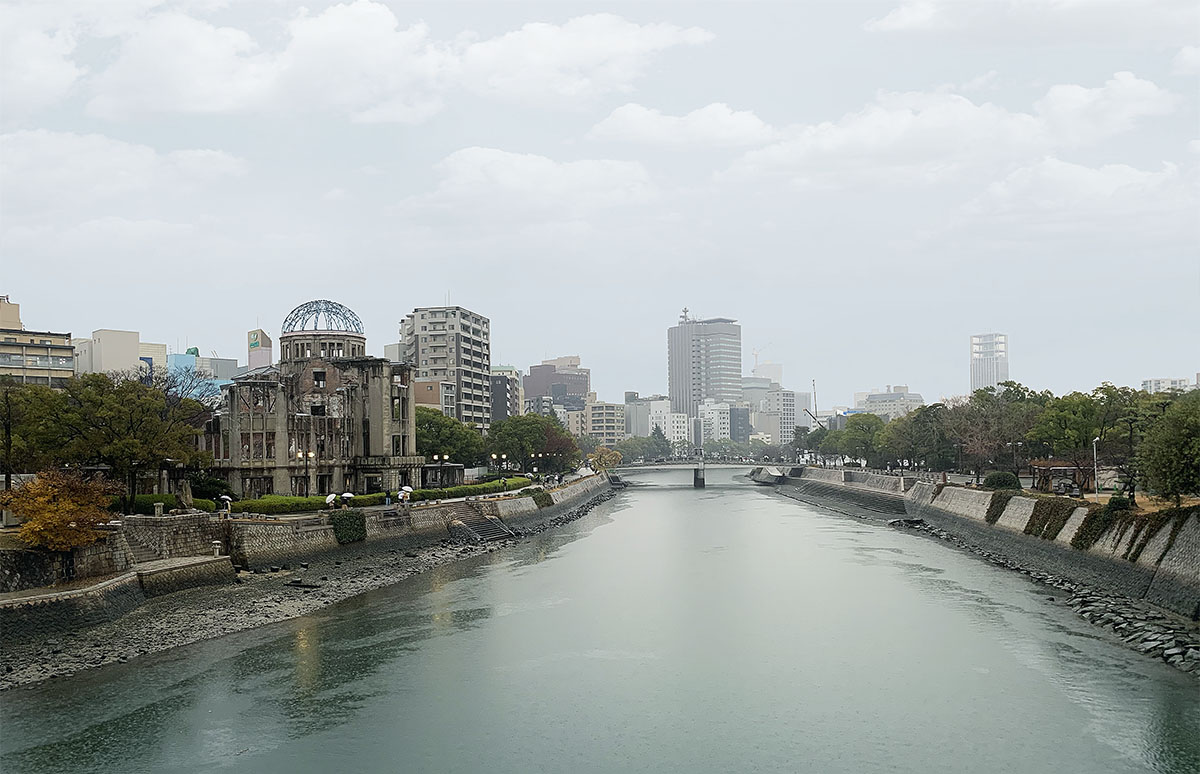 15:20 – 16:30 Coffee
Obscura Coffee Roasters
On a quiet street off the Hondori, Obscura is known for its sense of design and quality coffee. The roastery features a minimalist interior with a soothing balance of grays and warm tones. The spacious location also offers a variety of single-origin beans and blends that are freshly roasted on-site. A nice place to take a breather, to rest your soles after a long day of history, if you haven't yet take a stroll along the Hondori Shopping Street after, get some souvenirs and pop by Taito for a reminiscing game of arcade for a proper Japanese experience.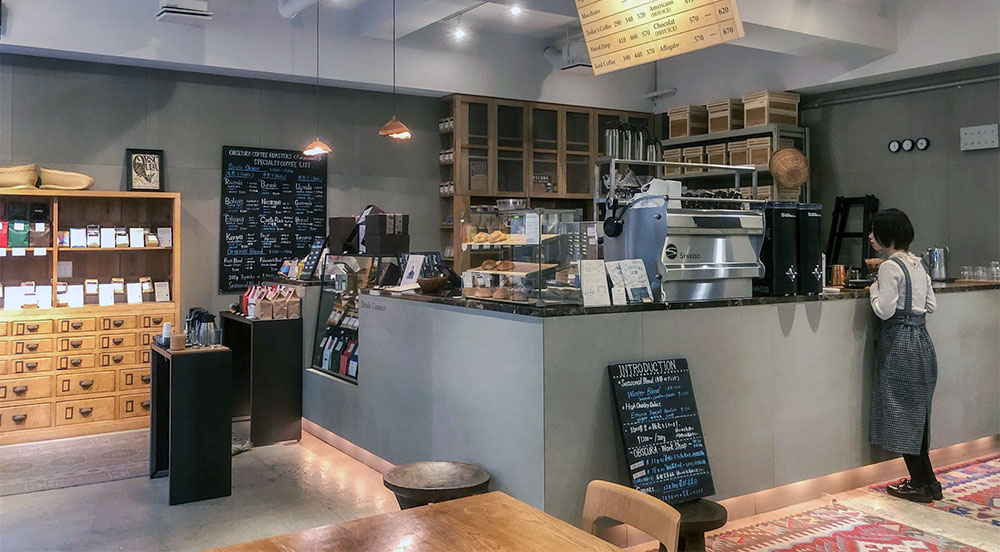 17:30 – 19:00 Curry Rice, Sausages, Lemon Sour and Conversations
Lemon Stand Hiroshima
A hyper-local standing bar to quench your sober evenings, the founders combined their love for hunting and drinking into a curious bar with a menu that showcases some of Hiroshima's best ingredients – Lemon sours on tap, a mean made-to-order Japanese curry, homemade sausages from their seasonal hunts as well as oysters from the nearby Okurakami island. The bar has standing space for about 12 people, they also have a (smaller) sister bar nearby that carries a similar menu called MON-TO.9
From 20:00 Oden and Ramen Supper
Hiroshima "i-kan" 広島一漢
When in Japan many of us find ourselves ever-ready for second dinners and bar bites. This tiny ramen joint is manned by a friendly owner and opens till late, it is where locals supper after work and enjoy a nightcap. I-kan has an off-menu selection of oden that he is more than willing to share, simmered in a delicious broth, the oden gets better as the night progresses.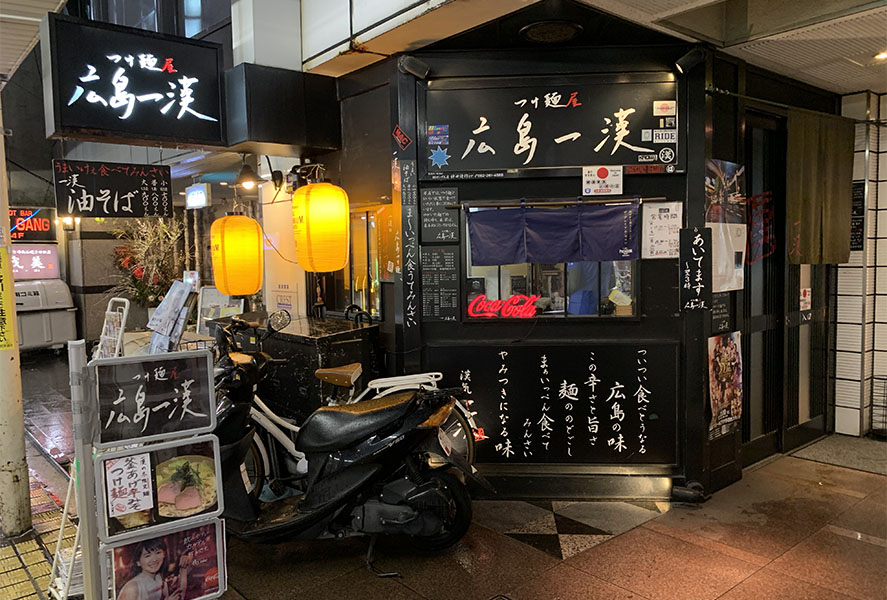 ICHIRAN ALL DAY

The Hiroshima branch is probably the "best" in the country because it is 24 hours and there are usually no more than a 10-minute queue
Late Night Entertainment
Hiroshima's Nightlife
Nagarekawa is Hiroshima's main entertainment and red-light district, illuminated by bright signs and neon lights. Most of Hiroshima's best bars are small, independently owned establishments. Some of the bars can be a bit intimidating and a lot of them in Japan are open to regulars only, foreigner-friendly bars often carry an international theme (eg Koba with rock and roll, Tropical Bar Revolución with a South American vibe), Izakayas are probably your best bets and thankfully they are plenty,
WORTHY MENTIONS: Bar Alegre: for mean cocktails or whiskey and Raku beer for a 15-tap craft beer experience. 
---
---

Day 2
07:00  – 08:30 A hike worth traveling for
Futabanosato Walking Trail
The Futabanosato trail is a 20-minute hike worth traveling for and one you won't regret, starting at the base of the hill is the beautiful Toshogu Shrine, the Futabanosato trail right behind it opens with tunnels of vermilion torii gates leading up the hill, taking you through multiple Shinto shrines to the peace pagoda where you will be greeted by sweeping views of the city of Hiroshima with dramatic skies on a good day. If you wish to continue on the entire trail is about 10km that will take up most of the day (Click here for map image), or the trail can end here by taking the road leading down through a peaceful cemetery and residential homes, from there it is a 10-minute walk to Hiroshima station.
OPTIONAL: Take the 25 minutes JR Sanyo Line train from Hiroshima Station to Miyajimaguchi Station for the 10-minute ferry ride across to Miyajima. JR Sanyo Line 420 yen/way (Free with JR Pass), ferry between Miyajimaguhi and Miyajima, 180 yen/way
11:00 – 12:00 Ramen
Ichiran
Famed ramen chain known for its solo-dining concept, specializes in tonkotsu ramen and does it amazingly well. Its international reputation (there are also 3 Ichirans in New York) has brought hungry tourists from all corners of the world to taste its mindblowing broth right at the source. In Tokyo you will likely find yourself behind a 40-minute to 1-hour queue at virtually all their chains. The Hiroshima branch is probably the "best" in the country because it is 24 hours and there is virtually no wait time thanks to its spacious restaurant and smaller tourist crowds, a ramen worth traveling for? you bet.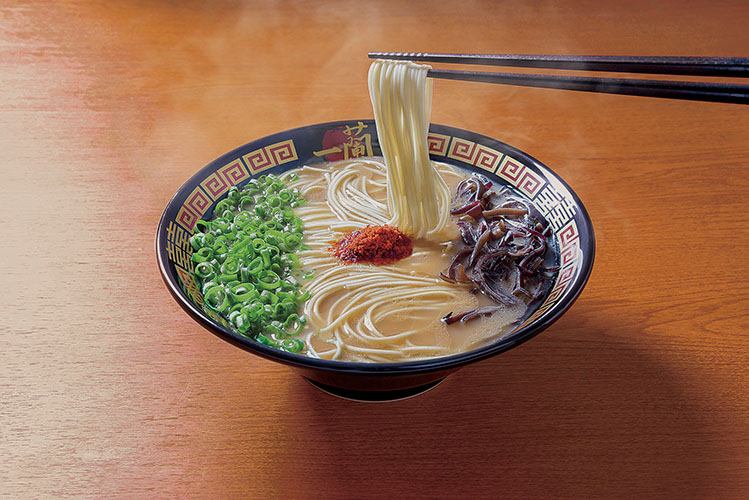 12:30  – 14:00 A Japanese Icon
Hiroshima Castle
A great side trip away from the city. Japanese castles (城, shiro) were fortresses constructed primarily of wood and stone, home to the daimyō (feudal lord), Hiroshima Castle was built in the 1590s, but was destroyed by the atomic bomb in 1945. The one standing today is a replica restored to its original glory in 1958. The castles are Japanese icons, and only a few exist in major cities today. The experience starts with a leafy stroll leading up to the entrance, despite being a replica the castle itself is magnificent. The park and its surrounding castle grounds free to wander in, entry to the castle and the museum is 370 yen.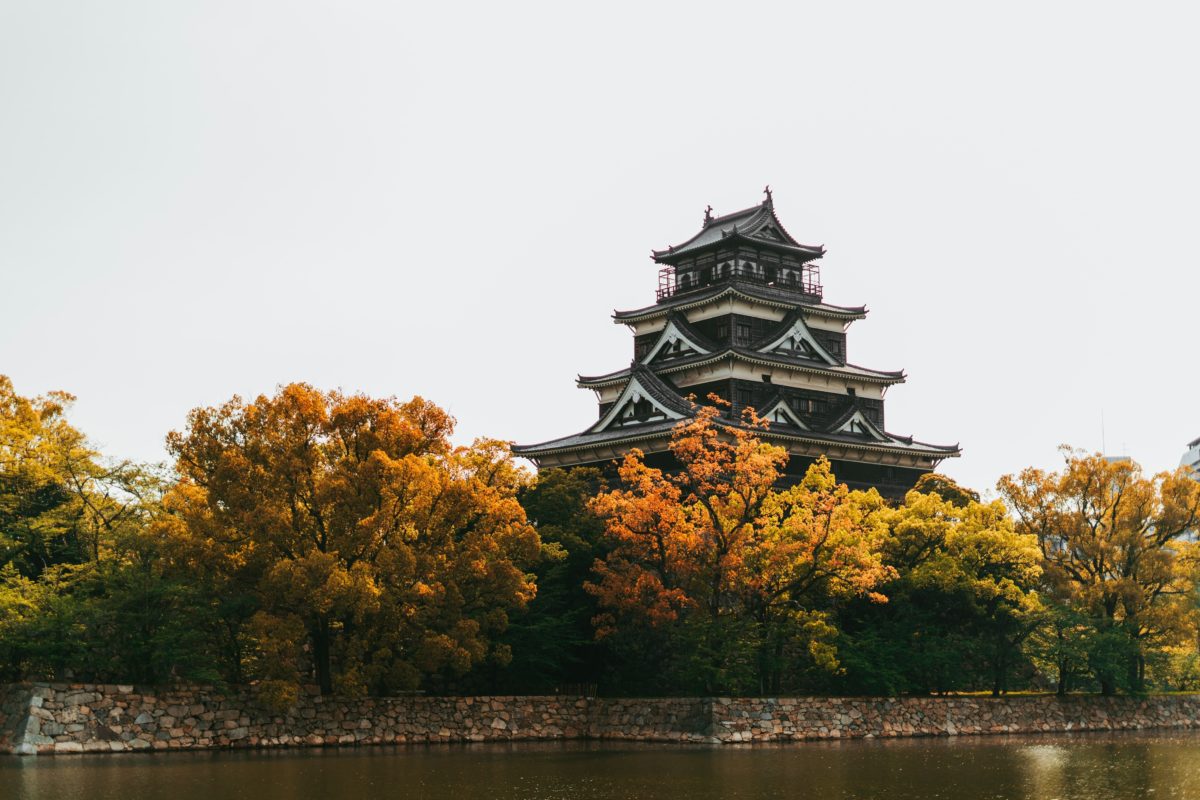 More Okonomiyaki
Hassho vs Hazeya
You might have a pretty good idea that Okonomiyaki is a big thing in Hiroshima, and I have no issue having it on both days. Besides Nagata-ya, Hassho is also a popular one in Hiroshima, there is going to be easily an hour-long wait and some claim this to be the best in Hiroshima. Personally I prefer Hazeya's for a better overall experience (and less tourists too)
Iconic Local Dessert
Momiji Manju
A maple-leaf shaped cake filled with sweet red bean created in Miyajima over 100 years ago, these fluffy bites are also popular souvenirs, be sure to grab a few if you are planning to visit Miyajima, alternatively, they are also available in the Shinkansen lobby of Hiroshima station when you are on your way out.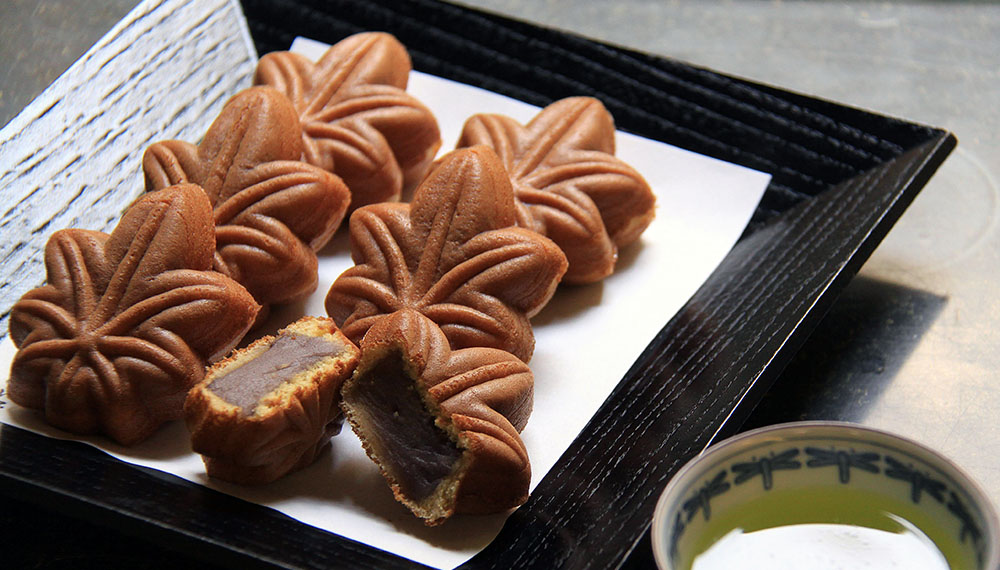 The Hiroshima "side" trip 
Miyajima
Miyajima is an island 2km off the coast in Hiroshima Bay, the island is easily reachable with a 10-minute ferry ride from Miyajimaguchi (180 yen/way) or a 45-minute scenic cruise (4000 yen return) from the peace park. The prominent "floating" torii gate by the Itsukushima Shrine is 400m from the ferry terminal, many prefer the gates during high tide where it appears to float, the ability to walk right up to the gates during low-tide is quite an experience in itself as well. If you have a preference for either or do check the tide timings when you plan your journey. 
Miyajima is also home to more than a thousand Sika deer — and they're really friendly ?. To feed them, there are deer cookies you can easily buy on the island, the deers are also known as "bowing deers" because they bow when they eat the cookies off your palm.
Photo credits: Juliana Barquero, fezbot2000, eggbank, Chen Yang