One of the most beautiful walks in Singapore
Blair Plain, Tanjong Pagar and Bukit Pasoh Conservation Areas are home to some of Singapore's best architectural gems. Tanjong Pagar is named after its former days as a fishing village, located between the docks and town. This was an enclave for sea nomads and Chinese workers who immigrated to Singapore in the early 1800s. Today, the Tanjong Pagar conservation area is a part of the greater Chinatown area and makes up part of the central business district home to impressive skyscrapers and vibrant evening scenes, this heritage trail is often missed. Treat yourself to a slow afternoon wander and discover hidden parks, side streets and local snacks.
SINGAPORE'S BEST HERITAGE WALK
Detailed Walking Guide Part 1
Blair Plain, Tanjong Pagar and Bukit Pasoh Conservation Areas
The best route to explore this area is to start from Blair Road (Left of map, closest MRT station is Outram Park), hidden behind the main road (Kampong Bahru Road) are some of Singapore's most beautifully restored and pristinely conserved pre-war residential houses, then take a short cut through Everton Park HDB to spoil yourself with caffeine or sugary options at some of Singapore's coolest cafes and confectioneries. After your break, the Bukit Pasoh Conservation Area is diagonally across the road, complete the small loop through Keong Saik and you'll find yourself at a quaint park that connects to Tanjong Pagar leading to Duxton Hill, Korean-town, Tras Street where you'll be greeted by one of Singapore's most exciting food neighborhood.
Blair Plain Conservation Area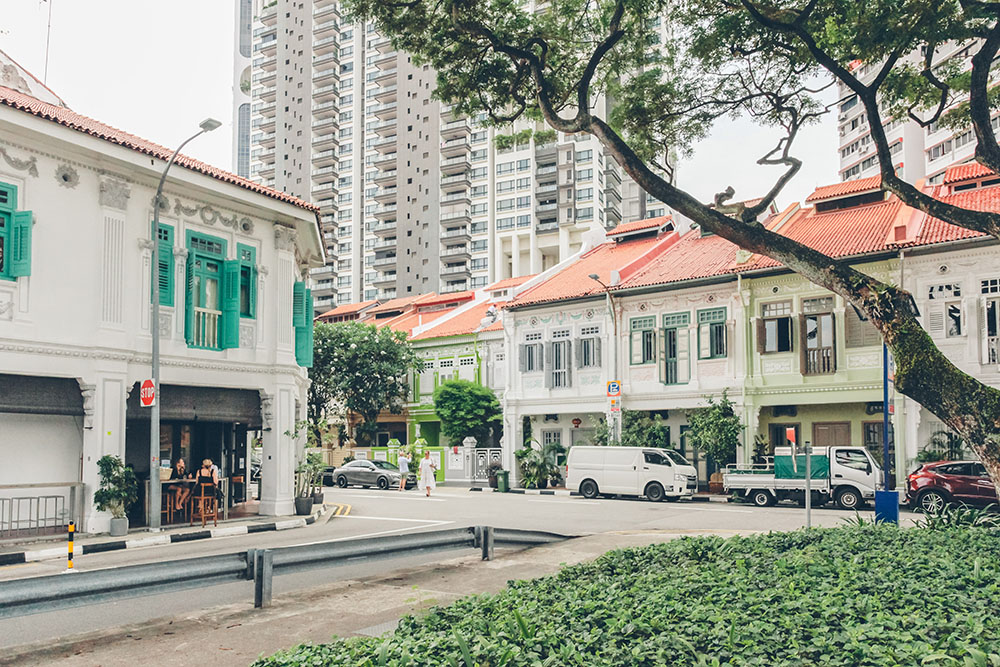 The quiet residential neighborhood hides some of Singapore's most beautifully restored terrace houses, the narrow inner streets of Blair Road, Spottiswoode Park Road and Everton Road, also known as the Blair Plain conservation area was home to wealthy Chinese merchant families in the early 1900s, away from the crowded urban areas of Cantonment Road.
Throughout the next few decades, individual owners decided to renovate and upgrade their own houses, giving birth to the eclectic mix of Chinese, Malay, and European design elements – from the timber fretwork of the roof eaves to the French windows and batwing-shaped air vents we see today. Also, examples such as no. 39 Blair Road is a typical ornately decorated 'Late Style' with a front yard, while no. 27/27A Everton Road is a hybrid of Arts-and-Crafts/Art-Deco style with its patterned brickwork.
At the corner of Everton Road, you might notice engravings on the building facade – "Choa Kim Keat, Motor Garage" (above left) , where the prominent businessman from Malacca in the late 1800s and early 1900s – Mr Choa Kim Keat used as a garage, in recognition to his contributions to Singapore, a road is also named after him in Balestier.
The 'Baba House' at 157 Neil Road
Originally built in 1895, the pre-war townhouse was beautifully restored in 2007 and converted into a museum, today the house is a rare survivor in terms of having an intact and ornate domestic interior, the space enables visitors to experience intimately how typical Peranakan homes looked and functioned in the 1920s, the Golden Era of Peranakan culture in Singapore. It is a showcase of lavishly carved antique furniture and items used by Chinese Peranakans of the early 20th century. Baba house opens 5 days a week, but visitors are required to make an appointment before your visit.
SINGAPORE'S MOST PRESTIGIOUS CONSERVATION AWARD
The URA Architectural Heritage Awards recognise well-restored monuments and conserved buildings in Singapore, and the people behind them. 
While on your walk, be sure to have a look at these high-quality restoration projects that have won the URA Architectural Heritage Award (AHA):
| | |
| --- | --- |
| 153 Neil Road | 149 Neil Road |
| 59 Blair Road | 55 Spottiswoode Park Road |
| 55 Blair Road | 64-1 Spottiswoode Park Road |

---
Everton Park Public Housing Estate
This public housing estate (also known locally as Everton Park HDB) is a glimpse into local life, HDBs are often centred around a food court that is the life of the estate, filling up hungry stomachs of young and old, where silver-haired neighbours gather and argue about local gossips over buckets of Tiger Beer, the remaining commercial lots on the ground floor are teamed with young entrepreneurs and family businesses.
Between hairdressers and nurseries, Everton Park is also known for its breeding ground for entrepreneurship and local success stories.
One of Singapore's earliest coffee movement that focuses on sustainable and transparent relationships across the coffee chain. They only work with trusted exporters and also supplies to many cafes and restaurants regionally, busy lines on any given day also speaks for the quality of a finished cup they brew.
The story of "he bakes and she makes", owners Jonathan & Hwee Ying built this Everton Park success story with their bare hands, a passion project turned full-time business, The Better Half bakes are so pretty you virtually smell it from the pictures.
Multi-award-winning skincare label and facial bar known for its vegan and organic products, Kew Organics is also an advocate for all-natural ingredients in skin care products and a beauty haven for local women. While its overwhelming success has seen Kew Organics expanding to high-end addresses in CBD Singapore, the humble Everton Park saloon remains busy, it also serves as an inspiration to young entrepreneurs.
Traditional Chinese cakes made by hand with recipes passed down through generations, Ji Xiang Confectionery is famous for its "Ang Ku Kueh", a brightly colored local delicacy filled with sweet or savoury pastes. These delicious bites draw crowds from far ends of Singapore, come weekends you'll often find hungry locals systematically dashing to their cars across the park with boxes of Ang Ku Kuehs, braving parking fines, and at $0.65 (S$0.90) each treat, you've got to at least give it a go.